Kroil Original Penetrant
Loosen frozen metal parts the professional way, with Kroil Original Penetrant in liquid and aerosol (formerly AeroKroil) formulas. Discover why this is the best penetrating oil to loosen bolts in various applications.
Best Penetrating Oil Used by the Pros
When it comes to freeing corroded items in tough spaces, nothing rivals powerful, industry-proven Kroil penetrating oil. Used and trusted by pros and experienced DIYers alike since 1939, Kroil quickly loosens rusted nuts and bolts, frees frozen shafts, pulleys, and more. No space is too tight to reach, thanks to Kroil's ability to penetrate the smallest opening, thread or crevice. Corrosion meets its match, as Kroil removes and prevents rust, cleans and lubricates, and displaces moisture. NEW! NSF Nonfood Compounds Program Listed Category Code: H2 Registration #165745. 50-State VOC Compliant. Made in the U.S.A. (Portions of 8oz packaging imported.)
Available In
Drip: 8oz
Aerosol: 10oz, 13oz, 16.5oz
Liquid: 1gal, 5gal, 55gal
Attacks Corrosion
Frees bolts, fasteners and other mechanical components
Removes Rust and Carbon Deposits
Will not attack or damage metal
Penetrates Faster
Penetrates quicker and deeper than similar products
Works Everywhere
Use on any corroded threads or tight parts
Simplifies Repairs
Makes the toughest maintenance jobs easier, faster and safer to execute
Penetrates Deeper
Penetrates the smallest spaces, threads and openings
Agriculture
Automotive
Aviation
Construction
Electrical
Facilities Maintenance
Factories
Firearms
First Responders
HVAC
Industrial
Infrastructure
Lumber
Manufacturing
Maritime
Mechanical
Metal Fabrication
Military
Mining
Oil & Gas
Plumbing
Utilities
Transportation
Agricultural equipment
Automobiles
Bearings and bearing mounts
Boats and marine equipment
Bushings
Castors
Chains and track pins
Construction equipment
Conveyors
Corroded fasteners
Drilling equipment
Engines and engine parts
Equipment disassembly
Firearms
Frozen gears and cogs
Frozen nuts and bolts
Gearboxes
Heat exchangers
Hinges and pins
Hitches
Locks
Lugs and lug nuts
Pillow blocks
Piping
Plumbing fixtures
Printing presses
Pulleys
Pumps
Rivet guns
Saws
Screws
Shafts
Sliding mechanisms
Sporting equipment
Turbines
Valves
Washers
Winches and cranes
Maintenance Tips
Hacked Off
Use Kroil Original Penetrant on saw blades and teeth to keep equipment from jamming, and ensure smooth, clean cuts. Also works well with honing and lathe equipment.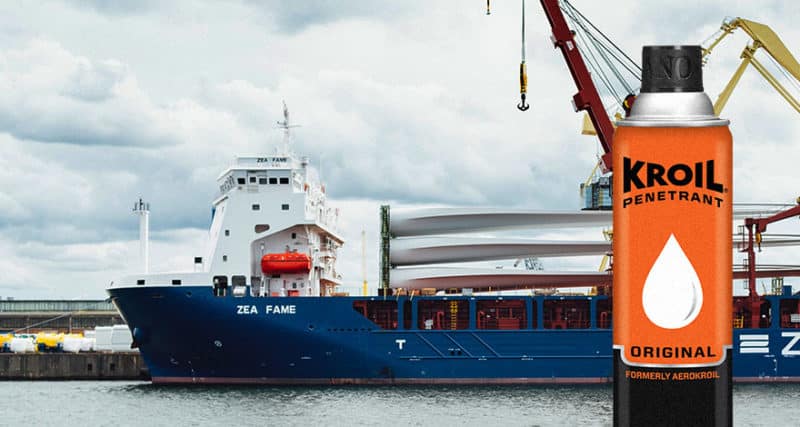 Out to Sea
Salt water and high humidity can wreak havoc on marine engines. Apply Kroil Original Penetrant to fasteners exposed to the elements, to help remove rust and corrosion.
The Sporting Life
Use Kroil products to clean and eliminate rust from hunting equipment, fishing rods, boat parts, car racks and other equipment that may sit for long periods and/or be exposed to the elements.
Reviews
"Kroil has been the most impressive penetrating oil…I would never not have Kroil on hand for the toughest jobs."
Machinery Maintenance Supervisor, Petroleum Refining Company
"I don't really care how much the stuff costs…a couple of squirts of Kroil just doesn't cost that much compared to the cost of the job."
Maintenance Manager, Power Company
"Kroil is the penetrating oil that I swear by. If you use it on a seized part, it is guaranteed to come apart."
VP of Maintenance and BD, Aviation Maintenance Company
FAQs
Looks like Kroil products have new packaging. Have the formulas changed?
Thanks for noticing our great new look! While you will soon be seeing new Kroil packaging on the market, the same great products are still inside the cans. The formula hasn't changed.
(New packaging coming Summer 2021.)
What is the difference between Kroil Original Penetrant and Kroil Penetrant with Silicone (formerly SiliKroil)?
Both products have similar penetrating properties, and can be used in multiple applications. The biggest difference between the two is the lasting lubricating effect of silicone in Kroil Penetrant with Silicone (formerly known as SiliKroil). In addition to lubrication, silicone helps to displace moisture, which adds an extra element of protection.
Do Kroil Original Penetrant and AeroKroil have the same potency?
Will Kroil penetrants damage the bluing on a hand gun or long gun?
If there is already current damage to the blued finish, Kroil penetrants can possibly creep under and lift the finish from the gun/rifle. In the event of overspray, simply wipe excess Kroil off the affected area(s) with a clean dry cloth.
Where can I get Kroil products in my area?
Please visit our where to buy page on this website for purchasing instructions.
I'm not sure which Kroil product to use for my application, can you help me?
Can Kroil Original Penetrant and Kroil Penetrant with Silicone be used on all metals?
Yes, Kroil products are safe and effective on all metals.
Are Kroil products available for purchase on Amazon.com?
Yes, Kroil products are available to Amazon Business members only, at this time. If you are not an Amazon Business member, we encourage you to shop from a Kroil distributor in your area. Visit our where to buy page for a full listing, and check back often, as new distributors are frequently added.
Become a Distributor
Kroil products are in high demand. Join our distributor network.
Learn More
WARNING Prop 65 Compliance: This product can expose you to chemicals including beta-myrcene, which is known to the State of California to cause cancer. For more information, go to www.P65Warnings.ca.gov.